Francesca at home in her Colorado wildlife garden
FROM THE ARTIST'S DESK: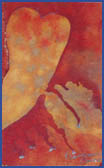 Open Heart Surgery
Pending Open Heart Surgery… you heard it right! I was born a pair of eccentric curly and knobby bar room doors with one swinging a little too much. My condition was never to need surgery but here we are looking at a surgery date in November 2006. Barlow Bileaflet Mitral Valve Prolapse with severe regurgitation. After extensive research and feed back from expert heart doctors… I am REPAIRABLE. No mechanical valve replacement with life long doses of Coumadin and monthly blood pokes. Bravo!
BOHO Board of Directors:
Juana Martinez-Neal, Website Designer
Spacio Art Studio 310.489.4560
Laurie W. Anderson,
Anderson & Associates Public Relations, Inc.
303.758.1118
Patricia Velte,
Newsletter Developer
pvelte@cox.net
WhiteWingDesign
Cindy Rayfield,
Business & Marketing,
Rayfield Creative
Janelle Brian, owner Images Custom Framing
303-933-0823
Jsartgal@msncom

Francesca's Heart Surgery Fundraiser
Art Sale

Most of Francesca's close friends are aware of her upcoming heart surgery. We wanted to share her plight with the community that she has served and worked in for many years. Although she has medical insurance, Kaiser has just informed Francesca they will only cover 80% of the cost of the surgery which will be done in California.

We are asking the community to support Francesca by coming to "ART ON THE TERRACE SALE" on November 4th at her studio which will be hosted by her close friends. This is your chance to say good bye before she leaves for 3 weeks, meet a few artists and consider art work for holiday gifts. Cash, checks and credit cards accepted.

The art that will be on display and for sale will feature Francesca, Karen M. Kubicek and a few other local artists. If you can't make the art sale but would like to help Francesca, please make your donation directly to Francesca and mail to the enclosed address. For further information, questions or ideas contact Karen Kubicek at kmkubicek@msn.com .

What:
Francesca's Heart Surgery Fundraiser - Art Sale
Outdoor fire pit, Italian Music
good food and beverages/vino will be served!
When:
November 4, 2006, Saturday 10:00 a.m. to 4:00 p.m.
Where:
Francesca's Studio
6039 W. Prentice Ave. (click to view map)
Littleton, Colorado 80123
Grant Ranch Community, Orchard Village
Phone: (720) 810-3297



Carry Me My Message

Francesca's Zia Sandra, her mother's last surviving sibling suffered a cerebral hemorrhage while Francesca was in Italy. Coming out of her coma Francesca reached her by phone to say final goodbyes and exchanges of love. "Carry me my message of love to my mother" were the final words Francesca spoke knowing Zia Sandra would soon be joining Francesca's mother who died 19 years ago. One week later, on June 13th, Francesca completed "Carry Me a Message," a multimedia collage with representations of her mother and aunt. "Thirty minutes after I finished adding the final touches of fragmented light directed towards the open window carrying my message… mia Zia Sandra passed away, carrying my message," Francesca stated. Her entire Doors of Passage series is currently featured in Enfuse EZine, a creative online publication illuminating the underground arts.


Cortona Exhibition

The first art exhibition in Italy was a success and was well attended with art enthusiasts from around the world. Brian Koetser, an art consultant to the Old Masters at Phillip and Son in London (the third largest art auction house in the world), purchased a Tiger Gaze Giclée for his daughter in addition to the local gelateria couple! Donna Roberts, a California artist is the proud owner of an Eye of the Jaguar Giclée. International art students studying in Florence came in by train to meet Francesca and discuss her personal artistic style. The local doctor's family had the opportunity to learn about tiger conservation through Francesca's art. Principessa Antonia Owens won rave reviews from the local sisters on her first international exhibit. Brava Antonia!


Eye of the Jaguar Italian Journal

Valdichiana, an Italian journal for the region of Tuscan featured a two page spread about Francesca's art and work with Save the Tiger Fund in Washington D.C. By the end of the summer, locals referred to her as the tiger woman artist. We guess this tiger artist's visit to an Italian hair salon for highlights was apropos!



Pre-release offer: Tiger Gaze Limited Edition Giclée